|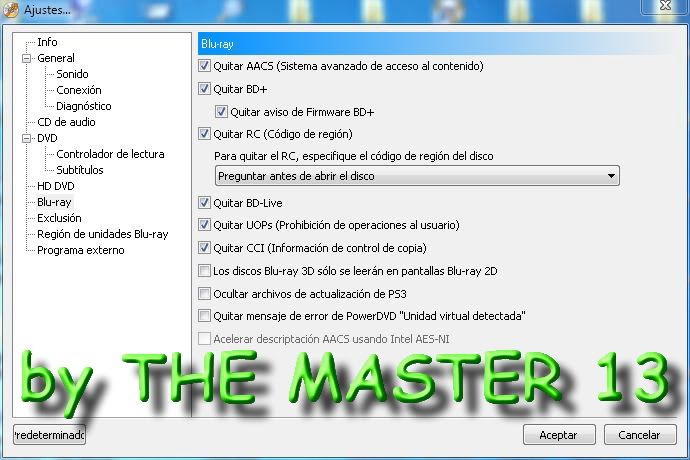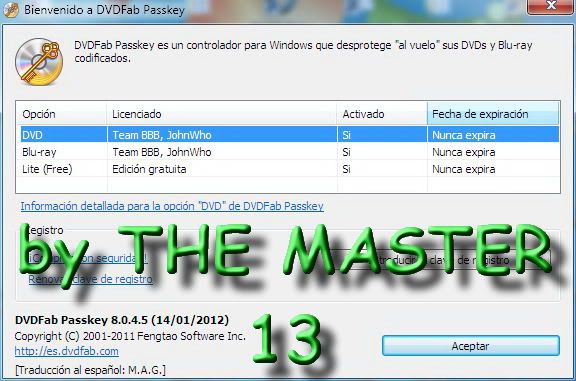 DVDFab Passkey is a program being developed by Fengtao Software. This program will directly compete with Slysoft AnyDVD. At this point in time it is in Beta testing and is being released for free!!!! However, after the Beta testing is completed, the program will have to be purchased.
I suggest we track this development. It may prove easier to crack than AnyDVD and, at the least, it is another option.
Overview of Passkey
"DVDFab Passkey works the same way as a background driver to remove the protections. It is powerful enough to work for both DVD and Blu-ray, and can remove all known DVD and Blu-ray protections just in seconds.
With Passkey, you can enjoy your DVD or Blu-ray without region limit and third party's help. And any other software is allowed to access the unprotected DVD/Blu-ray movies, so you can freely copy, clone, burn them or convert them to other formats according to your specific needs. You can also feel free with its flexible settings."
Decrypt Any DVD and Blu-ray Movies
"Remove all DVD copy protections, like CSS, CPRM, CPPM, RC, RCE, APS, UOPs, ARccOS, RipGuard, FluxDVD, CORE X2, etc.
Remove all known Blu-ray AACS and BD+ copy protections, Region Code, BD-Live, UOPs, MKB V18 and newest MKB V19"
Watch Any DVD and Blu-ray Movies Freely
"Allows you to watch any region DVD on your region specific DVD drive and player software.
Allows you to watch Blu-ray disc without HDCP-compliant graphics card and without HDCP-compliant display."
Flexible Settings to Edit Freely
"You can specify an application language from multiple available ones, decide whether or not to check for new edition automatically, and also can make other editing for your using convenience.
Freely change DVD playback order and remove annoying PGCs for the output movie with it."
Work with Any Software
"Passkey gives you the power to use any software to access unencrypted DVD and Blu-ray disc content. It has been tested to work with:
★ 1 Click DVD Copy Pro - Advanced I/O Mode Only
★ Nero Recode
★ AVS Copy
★ DVD neXt COPY V3 and 4 (without the machinist.dll)
★ DVD Shrink - Pathplayer Off with some content
★ DVDSubEdit (quick check for forced subs)
★ ImgBurn (Read Mode)
★ VLC (play VOB with File->Open)
★ WinDVD5 (play from original without UOPs)
★ Roxio Creator 9 in several modes/modules
★ DVDRanger without machinist.dll
★ Roxio 2010 with I/O Mode set to 'Advanced' under the General tab
★ CloneDVD
★ PowerDVD 9 Ultra
It could also work with other applications which haven't been tested yet.
System Requirement
★ Windows7/Vista/XP/2000 (32-bit/64-bit)
★ Pentium II 500 MHz
★ 256 MB of RAM
★ A DVD Drive
Cambios en DVDFab Passkey 8.0.4.5 is out (January 14, 2012)

What's New:
New: Some minor changes and improvements.
Passkey for Blu-ray:
Fix: Latest disc cannot be opened in certain cases.
DVDFab Passkey 8.0.4.4 (January 7, 2012)
New: Updated language files.
Passkey for Blu-ray:
Fix: Black screen problem when playing "Contagion".
DVDFab Passkey 8.0.4.3 (January 6, 2012)
New: Added option "Show welcome dialog" in "General" settings.
Passkey for Blu-ray:
New: Added support for new BD+ generation 12 as found on "Contagion".
Atención: Deshabilitar la opción de comprobar actualizaciones automáticamente y tampoco hacerlas por motivos obvios !!!

Agradecimientos y todos los créditos a Jannik93 - Team BBB y JohnWho por su trabajo......y a mi por la instalación silenciosa preactivada jejeje





http://www.megaupload.com/?d=CY972Q4B


http://www.mediafire.com/?ue2dhlhk2084y0a